Free-Hanging Friendship Sloop Panel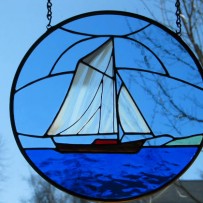 This type of vessel shares its name with the town of its origin, near Bar Harbor, Maine. The original Quaker shipwrights who founded the place moved on at the end of the 17th century, when they were driven out by their Puritan neighbors. Most of them moved to Maryland, but their heritage remains in the name of this sailing vessel. The Friendship design evolved at the beginning of the nineteenth century as a "fast fisherman", able to take on a perishable cargo and speed back to harbor before its limited cargo of ice could melt. These were working vessels, mostly used in the lobster trade. Today, owing to the classic beauty, dignity and usefulness of the Friendship, a few original boats and many copies are still used as pleasure boats. More information can be found in Howard Chapelle's book American Small Sailing Craft.
My Friendship is made from German antique glass for the very transparent sky, and American "waterglass" cathedral glass for the sea. The sails are made of wispy translucent white opal glass. I make these hanging panels with a brass rim, just porthole sized, and I finish the metal with a copper patina to add the proper nautical feel. The fine detail of the rigging is done with brass wire. Care for this piece by putting a little spray furniture wax on a terrycloth rag and buffing it down about once a year. Or leave it unpolished and watch it slowly get green like brass on a ship. Please hang it securely, no suction cups. Small screw eyes or cup hooks are best. Hanging chain is supplied with each panel.
Size

: 12-1/2″ Diameter

Price

: $125.00

Packing and shipping

: $20.00