Contemporary Designs & Installations
Thoughts on Contemporary Design
When the artist lets go of conventions and preconceptions about how to design for stained glass, line becomes narrative and color becomes melody and harmony. Familiar images may be included in the drawing, but not necessarily literal respresentations of things. Each dark line of metal is part of an unfolding story, and will have a powerful movement that the eye yearns to follow. Line should not be interrupted without reason, because it is carrying the viewer on a journey through the panel. Color becomes free of the requirement to represent nature exactly, and can therefore sing its own song, a song which can be moody, joyous, mysterious, exuberant, free of limits.
The Wave Window
The Wave Window was drawn in December 2010 by Lawrence Ribbecke, for a private residence in Vermont which overlooks Lake Champlain. It was built over the next four months and was installed in May, 2011. It measures seventeen feet wide by seven feet high, and sits ten feet above the floor of the large living room which faces the lake.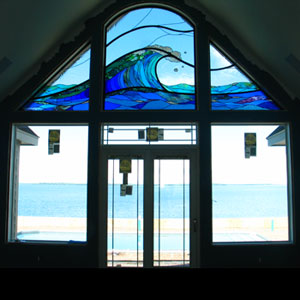 The owner and builder of the home rejected several earlier proposals for more traditional or more Craftsman Style windows as not interesting enough. The original drawing for this window was literally made on the back of an envelope, and then developed and finalized after thinking of the print made about 1840 by Hokusai of the Great Wave off Kanagawa, part of the Thirty Six Views of Mount Fuji series.
The flow of the design required making the reinforced steel T-bars, which were required to support and brace the window, work with the movement of the lead lines rather than run across them in perpendiculars. The window was built in collaboration with John Marius of Champlain Metals in Burlington Vermont, the master metal smith who truly made it possible.
The glass is a mixture of Kokomo solid and streaky cathedral and opal glasses for the movement of the sea, Youghiogheny and Oceana glasses for the dramatic foam parts, and Spectrum Baroque clear for the sky.
The Process